Why choose Drupal?
Our satisfaction depends on your success.
Open source
You don't have to purchase Drupal software; anyone can download it for free. Therefore, you can save a large part of your expenses with Drupal.
You will never be dependent on a single programmer or on the company which created your application. There are thousands of developers all over the world who work with Drupal. Detailed project documentation and following Drupal standards are the basic assumptions for this.
Flexibility, scalability
Using Drupal, it is possible to develop sites from a small company website to a complex portal. The modular logic of the system enables finetuning of the website to your actual needs.
Your website can grow with you. You can expand it and build on it without having to redo it from scratch.
The system is proven by many
Drupal has proven itself in many interesting and demanding projects all over the world, such as:
Convince yourself
Send us a non-binding inquiry - we will be glad to discuss the most suitable and most effective solution with you.
Send us a non-binding inquiry
Benchmark project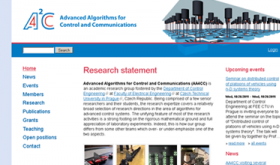 The approach of the Squelle experts showed great initiative. I always had a good feeling that they not only fulfilled my requests, but they thought about them intensively. (...) Their response was always very quick. The financial conditions not only for the creation of the website, but also for the subsequent services were very advantageous, especially considering the open source character of the website and the independence of the website creators. I definitely recommend the Squelle company for academic institutions and groups.
Ing. Zdeněk Hurák, PhD., Czech Technical University in Prague
»
more references